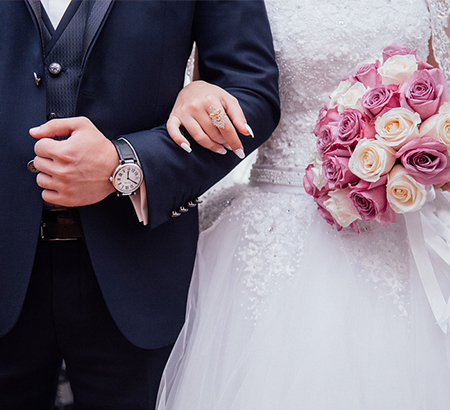 Your wedding is a big deal. You spend countless hours adding the perfect touches to every aspect of your wedding from flower arrangements to centerpieces, so why should transportation be any different? When it comes time to schedule the limo or limo bus for your wedding, don't trust just any one! Lansing Party Bus is by far the best choice for wedding day transportation. We are reliable and 100% committed to customer satisfaction. And, of course, our vehicles are comfortable, spacious, and most of all, luxurious! The perfect way to travel! Our buses range in size from 8 to 40 passengers so no matter what size your wedding party is we can accommodate you!
Here at Lansing Party Bus we offer exclusive wedding bus packages that include some pretty great wedding perks, like custom decorations like "Just Married" or another congratulatory message of your choosing, luxurious red carpet service, and even an extra hour of service if you book your bachelor or bachelorette party at the same time. The deals can't be beat! Of course we'll also make sure the vehicles' coolers are stocked with bottled water and champagne! We know how important this day is to you and we'll do everything within our power to make it go perfectly. Our drivers are prompt so you don't have to stress about late arrival and we have a great vehicle maintenance team so you don't have to stress about the vehicle being clean or working. We're dedicated to being the best.
On top of our luxury vehicles and great prices, we have amazing service. We're available to you 24/7 to not only book your arrangements, but for support! We'll always call to confirm the week of your event, but if you're stressing out and just want to call and confirm the reservation go ahead and call us as many times as you need! We know how stressful event planning can be and we want you to know we're here! But we promise you don't have to stress out with us! Our service is reliable - our buses are all in the best shape and our chauffeurs are the best in the business and they're always appropriately dressed and on time. Our goal is to make sure your day goes smoothly! Give us a call to book your reservation for you wedding!
Photography