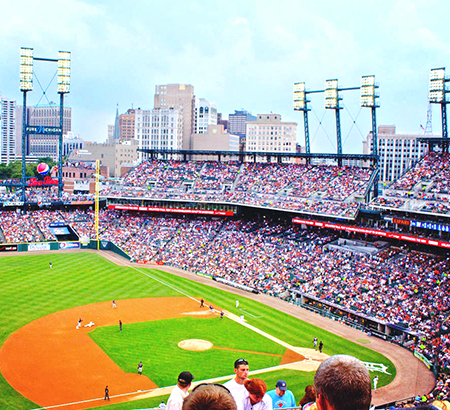 Baseball is America's past time, and our favorite way to spend that past time is at Comerica Park with the Detroit Tigers! Baseball games are some of the most exciting games you'll go to, whether it's with friends or the whole family! Taking a party bus to the baseball game will take your outing to the next level! Because our buses have those fun features like TVs and music, if you have any small kids in tow they can stay occupied with movie. But most of all, the extra large cooler space will please any tailgater! It's a spacious, fun, luxurious, and unique way to travel and kids absolutely love every bit of it! The TVs have DVD players so if you want to pop in their favorite movie they can watch it on the large flat screen!
If you're tailgating with friends, as we mentioned above the ample cooler space in our vehicles will be a real crowd pleaser! And most importantly, we will be the designated driver of the night and get you to and from Comerica Park safe and sound! There's nothing as important as making sure you have a reliable DD for any night out, and that's where we come in. Our buses have room for you, all your friends, and all your drinks! Part of the baseball experience is classic ballpark food and a cold beer, and you shouldn't have to hold back from that experience! Lansing Party Bus will get you there and back safe and sound!
The drive from the Lansing area to Comerica Park is a bit of a trek, and making such a trip crammed into small car is more stressful than fun. But a spacious party bus? The drive will go by so fast because you'll be partying and enjoying the ride, and as they say, time flies when you're having fun! And we know we already mentioned it, but we'll make sure you get there and back safe and sound by being the DD, which is so incredibly important to consider. It's also important to note that our prices are very affordable so you won't have to have any qualms about renting a luxury vehicle to take you out to the ball game!
In the mood for some baseball tailgating? Just be sure to let us know so we can make sure we give you a bus size to accommodate you, your guests, and all your coolers and grills! We know some of you Tigers fans like to start the tailgating early or keep it going all night so lucky for you Lansing Party Bus operates 24/7 so you can book your rental for the game and tailgating at any time you need!