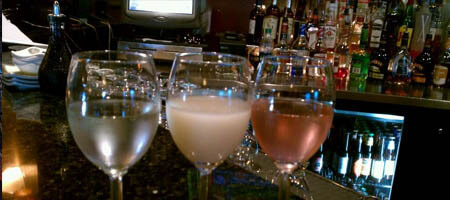 UKAI JAPANESE STEAKHOUSE
2167 W Grand River Ave | Okemos, MI 48864 | (517) 349-0820
If you're planning to be on the road with Lansing Party Bus in the Okemos area in the coming weeks and you've got a serious love of sushi and Japanese fare like we do, then you really owe it to yourself to add Ukai Japanese Steakhouse to your itinerary! The hibachi tables are excellent for your party bus groups, each seating 6-8 guests, providing both entertainment and amazing food all in one shot! The steak and seafood that is served up here is just amazing and they really put on a good show. The sushi is wonderful as well, including all your favorites like spicy tuna rolls and delectable eel rolls. From the ambiance to the service, this one's a real winner!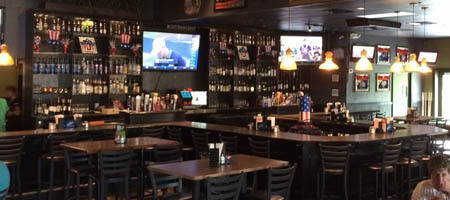 BUDDIES PUB & GRILL
1937 W Grand River Ave | Okemos, MI 48864 | (517) 347-0443
For a simple and understated pub experience in the Okemos area, you cannot go wrong with a trip to Buddies Pub & Grill with Lansing Party Bus. They've got a pizza buffet for lunch that's pretty decent, but the real gold is in the menu, where you'll find lots of old fashioned favorites of the highest possible quality. Absolutely droolworthy food here, do not pass it up. The drinks, too, are expertly crafted and the beer selection is nice too. Good prices and friendly service, not to mention one of the most pleasant atmospheres in the city. Highly recommended not just for your Lansing Party Bus trips but for anytime you are in this area!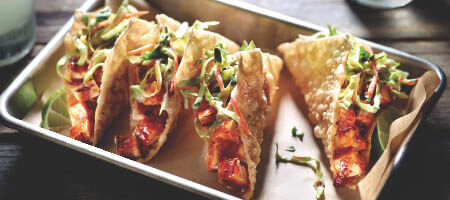 APPLEBEE'S
2284 Woodlake Drive | Okemos, MI 48864 | (517) 347-4892
A low key solution for your lunches and dinners in the Okemos area has got to be Applebee's! If you don't mind a chain restaurant and you're familiar with what they have to offer here, you're probably already a big fan of their extensive menu and their cozy and casual ambiance. It's just so comfortable for party bus groups, and since it's always loud and lively here, you don't have to worry about being the loud party bus group, you can just have a good time and be yourself! You'll love everything here, from the apps to the entrees to dessert.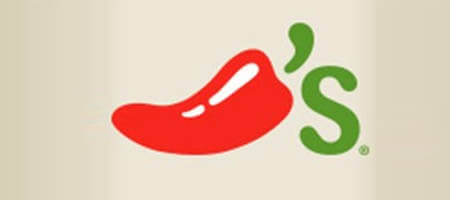 CHILI'S GRILL & BAR
5055 Marsh Rd | Okemos, MI 48864 | (517) 347-7188
Like Applebee's Chili's is a chain restaurant and bar that is all too cozy for your Lansing Party Bus groups in the Okemos area. This one's known best for their specialty margaritas and for their comfortable bar area, but the menu is also quite a delight! They've got a ton of things to choose from, so there's something for everybody in your group, and the prices are all so affordable that you can feed them all on one thin dime. You'll love the feeling of this place and the wonderful service that makes you feel right at home. You'll forget you're in a corporate chain restaurant and really get lost in the pleasant vibe here! Love it!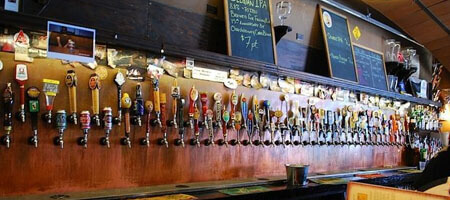 HOPCAT
300 Grove St, East Lansing, MI | (517) 816-4300
The HopCat is known for a few things - mainly their AMAZING selection of beer and the addition, delicious crack fries! Personally, we think beer and fries go great together, so we'd hang out at HopCat just for that! On top of the food and drinks, HopCat has plenty of huge TVs so you can catch the game while you hang out. This is a top-notch place to enjoy a night out!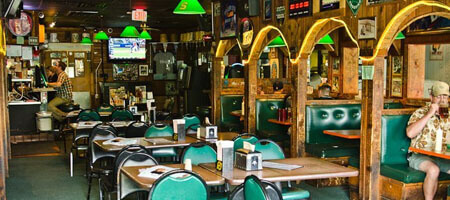 CRUNCHY'S
254 W Grand River Ave, East Lansing, MI | (517) 351-2506
Crunchy's is a Lansing staple. With a rotating selection of 27 beers, there's always something new to try and of course they also have bottles so the usuals are always available ! Crunchy's has been around since 1982, making it Lansing's original craft beer bar! There's also karaoke, plenty of TVs, and best yet, low prices! Service is friendly as well, so rest assured you're going to love your time at Crunchy's!