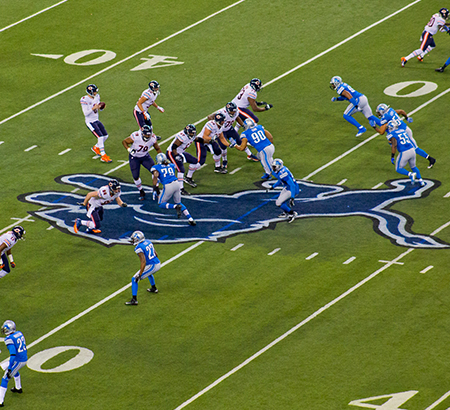 As you surely know, the Detroit Lions can be seen at the beautiful Ford Field in downtown Detroit. Football season in Detroit is big deal, and if you want to get to the game in a comfortable and stylish fashion, we recommend going in one of our luxurious vehicles. We've got everything you need to enjoy game day. Whether you've got the much sought after tickets to the game or if you're planning to tailgate, we are what you need.
We'll pick you up with all you friends at any time you want and take you to Detroit for the game or some tailgating. Whatever you want to do! It's the best way to travel and you'll get to start having fun the minute you get picked up, long before you arrive at Ford Field! Get the party started by stocking the cooler with your favorite drinks or putting some entertainment into the DVD player. The possibilities really are endless! If you want to have a guaranteed fun time from the minute you leave home to the end of the game and the minute you get home, then you need Lansing Party Bus! What's a football game without some beer? You'll be partying all day and you'll need that safe ride home!
With Lansing Party Bus, it's simple - you party in style on the way there, enjoy the game, maybe get in some tailgating, and party on the way home! All the while enjoying the luxury and comfort of our vehicles and traveling safely in the care of your specially trained chauffeur!