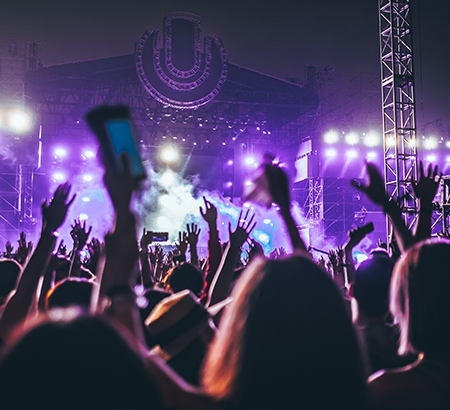 Michigan has some top-notch music venues. Whether you're staying local and going to The Loft, The Exchange, heading west to The Intersection, or traveling far east to Comerica Park, The Palace, Ford Field, DTE Energy Music Theatre, Freedom Hill, or Royal Oak Music Theater, you're going to have a great time! And when you're looking to have a great time, there's no better way to travel than with Lansing limousine or party bus. A party bus offers a comfortable traveling experience and everything you need to get in the mood for a good time - lights, TVs, and a great sound system. There's other perks, too, like turning a a concert event into a full-blown party for you and your friends!
Everyone loves going to a concert in Detroit. Some of Michigan's best music venues are there! Not to mention concerts are just fun no matter where they are! Kick it up a notch by going to the concert in a party bus from your favorite Lansing company. Our buses are just what you need to make the night unforgettable and hassle-free!
Let's talk about what happens when you drive yourself to a concert. You start the drive, exciting, blaring the band's best CD in your car, in a great mood, and then, suddenly, you're in the worst traffic back up. You start to get agitated. Then, when you finally get near the venue, you're at a dead stop waiting for the traffic director to tell you where to park, not to mention parking ends up costing twice as much as you anticipated. Finally you feel relieved and go and enjoy the show. But you can't party too much because you have to drive home. And then it's time to leave and you get the car and traffic is a mess and suddenly you're agitated again and your friends, who were able to enjoy more than one beer, are rowdy and giving you a headache. BUT, with Lansing Party Bus all of this can be avoided!
When you go to the concert in one of our luxury buses you're entire night is nothing short of enjoyable! When you get picked up you can start partying on the bus immediately. Dancing, blaring music, drinking, having a great time. You wont even notice traffic! And when you get the venue you get dropped off and you're on your way to enjoy the show and party as much as you'd like! After the show, you'll meet back up with your bus and keep the party going! Dance more, drink more, and time will fly by and you won't have any post-concert traffic frustrations! You just can't go wrong when you choose Lansing Party Bus as your concert transportation!